Content
Contact Tetrosyl Group Ltd.
Bevis Green Works, Walmersley, Bury, England, BL9 6RE
This email address is being protected from spambots. You need JavaScript enabled to view it.
Tel: 0161 764 5981
Additional information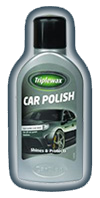 "I have just started to use Triplewax ...... I can honestly say my car has NEVER LOOKED BETTER ...... The depth of shine and lustre on the paintwork and the chrome indicates a durable gloss which adds to the appearance of an already beautiful car and gives me confidence for a maintained high level of protection on the bodywork ...... The ease of use of Triplewax is amazing ...... Triplewax is quick, effortless to use and the result better than anything that I have previously used."