Content
Contact Tetrosyl Group Ltd.
Bevis Green Works, Walmersley, Bury, England, BL9 6RE
This email address is being protected from spambots. You need JavaScript enabled to view it.
Tel: 0161 764 5981
Additional information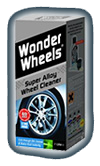 "Just to express my appreciation of "Wonder Wheels" ...... having read various recommendations of your products, I decided to try Wonder Wheels. 15 mins later, I washed off the residue, and could not believe my eyes! Wheels absolutely as new! I think you should rename your product Miracle Wheels, as there is no better description!"