Content
Contact Tetrosyl Group Ltd.
Bevis Green Works, Walmersley, Bury, England, BL9 6RE
This email address is being protected from spambots. You need JavaScript enabled to view it.
Tel: 0161 764 5981
Additional information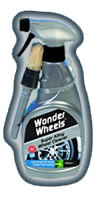 "This is a quick letter to say how pleased I was with your wonder wheels product ...... My car is eight years old and I have the original alloys, so you can imagine the state of them ...... so it was a big job (all so I thought!) but using your Wonder Wheels made the big job, a small job with a great turn out in the end. Thank you and I'm sure I will use your products all over again."