Content
Cookie Policy
Privacy Statement: How we use Cookies
Cookies are very small text files that are stored on your computer when you visit some websites.
We use cookies to help identify your computer so we can tailor your user experience, track shopping basket contents and remember where you are in the order process.
You can disable any cookies already stored on your computer, but these may stop our website from functioning properly.
The following is strictly necessary in the operation of our website.
This Website Will:
Remember what is in your shopping basket

Remember where you are in the order process

Remember that you are logged in and that your session is secure. You need to be logged in to complete an order.
The following are not Strictly Necessary, but are required to provide you with the best user experience and also to tell us which pages you find most interesting (anonymously).
Functional Cookies
This Website Will:
Track the pages you visits via Google Analytics
This website will not
Share any personal information with third parties.
Additional information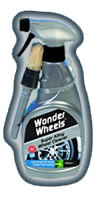 "This is a quick letter to say how pleased I was with your wonder wheels product ...... My car is eight years old and I have the original alloys, so you can imagine the state of them ...... so it was a big job (all so I thought!) but using your Wonder Wheels made the big job, a small job with a great turn out in the end. Thank you and I'm sure I will use your products all over again."