Content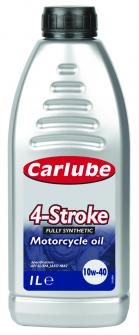 Carlube XFS401 4-Stroke Fully Synthetic Motorcycle Oil 1L
Carlube 4-Stroke Fully Synthetic Motorcycle oil is formulated to cope with high revving and higher operating temperatures experienced with motorcycle engines. These oils are suitable for small engine scooters to large V twin engines, sports and racing motorcycles.
SPECIFICATIONS
API SM, JASO MA2
ADVANTAGES
Eliminates piston ring and prevents power valve sticking providing a cleaner engine allowing for long lasting power and best performance
Proven engine durability and cleanliness allowing for long lasting power
Prevention of soot formation, sludge and deposits in turn protecting engine from damage
Constant lubrication protecting all engine components against wear.
APPLICATION
Exceeds API SG and JASO MA specifications and is also suitable for use in older bikes where API SF and SE engine oils are specified.
AVAILABILITY
XFS401 - 1L
Part No. XFS401
SIZE
CASE QTY
BARCODE
1L
12
5010373019610
WEIGHT (kg)
MEASUREMENT (cm)
PACKAGING
12.00
L9.4 x W6.8 x H24.5
Plastic Bottle
PALLET QTY
624