Content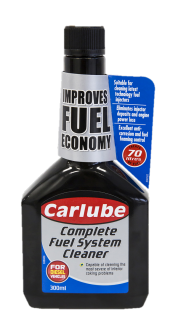 Carlube QFD300 Diesel Complete Fuel System Cleaner 300ml
Carlube Total Fuel System Cleaner is a powerful formulation containing additives designed to rapidly remove fuel deposits and the associated problems they cause in Diesel vehicles. In just one tank of fuel dosed with Total Fuel System Cleaner, significant amounts of deposits are removed in a wide range of Diesel vehicles.
ADVANTAGES
Improved, rapid cleaning of complete fuel injection system for optimum performance
Increases cetane number of fuel for improved combustion
Assists in reducing the potential for increased emission output
Helps restore fuel economy and engine performance lost by build-up of engine deposits
Prevents and removes damaging components that cause power loss, rough running and injector failure.
APPLICATION
Simply add entire contents to a full tank of Diesel. Treats up to 50 litres. For best results, use every fill up.
AVAILABILITY
QFD300 - 300ml
Part No. QFD300
SIZE
CASE QTY
BARCODE
300ml
6
0000050043251
WEIGHT (kg)
MEASUREMENT (cm)
PACKAGING
2.00
L8.9 x W3.7 x H19.7
PALLET QTY
1,152