Content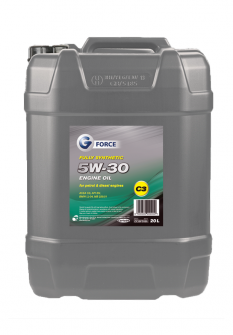 G-Force GFC020 5W-30 C3 Fully Synthetic Engine Oil 20L
G-Force 5W-30 Long-life C3 is a fully synthetic, low-saps oil for Diesel and Petrol engines and in particular for BMW, Mercedes-Benz, Vauxhall & Chevrolet diesel cars and light vans on extended service intervals.
ADVANTAGES
Low ash content helps reduce particulate build up in DPF.
Low Sulphur & Phosphorus reduce poisoning of Petrol Catalytic Converters.
Increased thermal & oxidation stability reduces oil ageing allowing extended drain intervals.
Reduces environmental impact through reduced emissions.
APPLICATION
Latest Diesel engines fitted with DPF to meet Euro IV Emissions requirements. Diesel and Petrol engines which require ACEA C3 & API SN/CF.
SPECIFICATIONS
API SN/CF, ACEA C3, BMW LL-04, MB229.31/229.51, GM DEXOS II
AVAILABILITY
GFM101 - 1L
GFM105 - 5L
GFC020 - 20L
GFC199 -199L
Part No. GFC020
SIZE
CASE QTY
BARCODE
20L
1
5010373077962
WEIGHT (kg)
MEASUREMENT (cm)
PACKAGING
20.00
L29.3 x W24.0 x H40.2
PALLET QTY
32