Content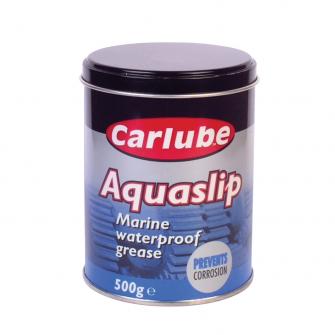 Carlube WPG500 Aquaslip Marine Waterproof Grease 500ml
Aqua Slip Marine Grease has been formulated as an all-purpose grease for boats, stern tubes, boat trailers and other marine applications. Its high resistance to water wash-off and corrosion protection make it an ideal choice for boats, trailer wheel bearings, swivel hinges, pins, winches etc.
ADVANTAGES
Resistant to water and salt water
Protects against rust and corrosion
Long lasting
Shear stability
APPLICATION
Recommended for all marine applications where premium quality Calcium No.2 grease is specified.
AVAILABILITY
WPG500 - 500ml
Part No. WPG500
SIZE
CASE QTY
BARCODE
500g
12
5010373002919
WEIGHT (kg)
MEASUREMENT (cm)
PACKAGING
6.50
L94.0 x W94.0 x H22.0
Plastic Bottle
PALLET QTY
720